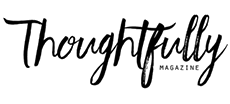 We've been listed on Thoughtfully Magazine's 2016 Green Beauty Awards!
As we've been taking the month of January to reflect on what we want less and more of in 2017 and improving our overall wellness, we couldn't help but think on some of our green beauty favorites from last year.
We love creating daily gratitude rituals here at Thoughtfully and discovering products that use the highest quality ingredients derived from nature, to nourish and feed our skin. So with the help of some of our clean beauty friends, we've rounded up a short list of stand-outs to create our first ever 2016 Thoughtfully Mag Green Beauty Awards.