Embracing Change + Gratitude in 2020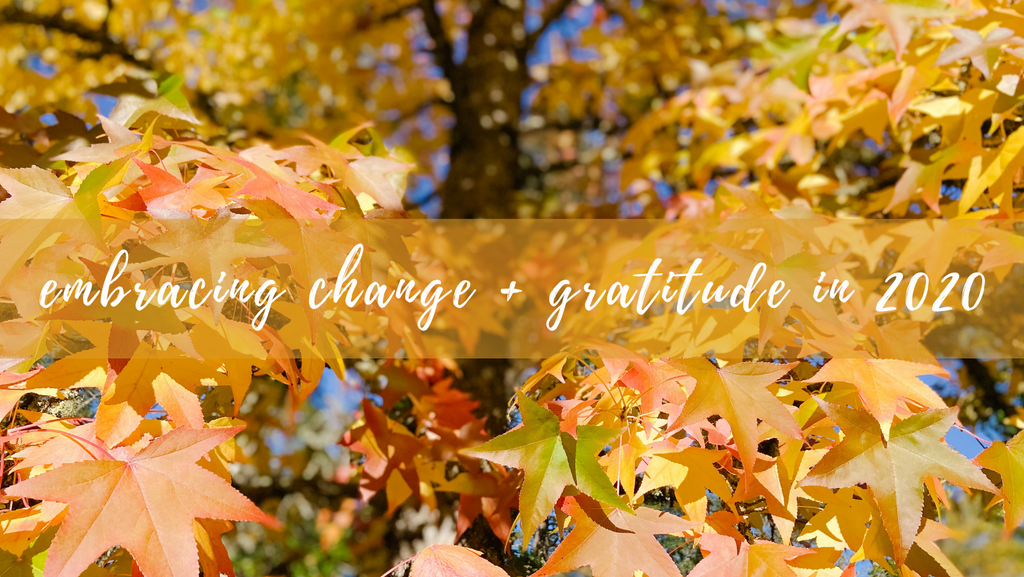 Every year, I write a Thanksgiving message before the festivities begin. These festivities usually involve a cooking frenzy (I'm always overly optimistic about what I can realistically accomplish on the actual day), the sounds of kids and cousins playing together, excitement about seeing family we don't see often enough, trouble-shooting last minute details for our Black Friday sale, and holiday music or the Macy's Thanksgiving Day parade playing in the background.
This year things are different. And I'm happy about it. 
With a new spike in COVID cases, we are in our home and will be staying put. We will not be getting together with extended family this year, our holiday sale ended last night, and Whole Foods delivered all of the groceries we need to prepare our "feast", so there will be no last minute frantic trips to the store.
This year, I feel...peace and contentment. This may be the first year I have felt this way for as long as I can remember. Don't get me wrong, I cherish time with relatives and I have fond memories of Black Friday sales and shopping trips. But the culmination of everything together, with little time to just stop and be, has ruined the spirit of the day for me. The anticipation of the day was always better than the exhaustion that ensued. I've spent the past few Christmases sick with the flu from being worn down. 
This frantic pace, these unrealistic expectations of myself robbed me of joy and the things about the holiday season that actually matter. I know someone out there can relate, right?
The events of this year, especially COVID, have been incredibly disruptive, but some of the disruption has been a blessing. For many of us, 2020 has thrust us toward a new set of priorities; evaluating what is worth hanging on to and what we can (and should probably) do without, in order to live our best lives. 
As a college business professor, I can't help but to find opportunities for teaching moments, and much like my students this year, we are all being asked to adapt and to grow, whether we are ready or not. Challenging circumstances are what ultimately shape us. If we are willing to accept, and to press in...the result can be exponential growth. Businesses who resist change, who fail to pivot, innovate, and adapt to their environments, will likely not survive. In fact, without change and innovation there would be no forward progress! Ok, end of Management class. I digress.
I have seen some beautiful transformation taking place, as we have struggled to let go of what used to be our norm, and to embrace the fact that much of our future is unknown. What we can control is how we choose to spend these moments we are living, right now. 
 I just finished reading a blog post I wrote Thanksgiving 2015, two months after my family lost our home in the Valley Fire and I still didn't know where Zoe Organics would land when all was said and done. It was traumatic and it was a defining moment in my life. Five years later, we still get evacuated during fire season here in California, (our new community was greatly impacted by the fires again this year), but somehow experiencing what we did in 2015, has given us a new perspective for processing unexpected life events, and the ability to give back with empathy. Challenge changes us. 
So, when I reflect on what I am grateful for this year, I am grateful that some of the peripheral noise has been removed from my life. That, as a community, we have found ways together to adapt to what 2020 has thrown at us, with a genuine desire to take care of each other. I'm thankful for an abundance of grace. I'm thankful for resilience and compassion. 
I'm going to sign off in a few minutes and I'll likely stay in my PJs, and eat way too much today. I'll probably lose my cool a few times and burn something when I become distracted with my kids or our seven, 6-week-old Rhodesian Ridgeback puppies. But I'm doing Thanksgiving differently this year. I'm clearing space in my head and heart to cherish these moments with my family before they get away.
How has 2020 pushed you toward your best self? How have you been brave in spite of fear? 
I'm wishing you and yours so much love and contentment this holiday season. Take heart and please stay connected. Thank you for being part of the Zoe Organics family. 
xoxo
Heather